Distributing decoded financial market information from Riskelia via Radar which covers:
Detecting trends and bubbles in all liquid markets in the world.
This exhaustive radar aims at providing a full-scope analysis of all the traded markets in the world: stocks, interest rates, forex, credit and commodities.  A 15-page view of all the speculative dynamics in the world: trends, bubbles and risk-aversion.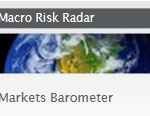 Dynamic update on global liquidity conditions and analysis of inter-market contagion.
Similar in appearance to a weather barometer chart, the Macro Risk Radar summarizes investors risk aversion levels or market liquidity conditions, in an easily readable one page report.  The Macro Risk Radar also illustrates the contagion process between asset classes as well as the level of integration between markets.  This in turn enables investors to gauge the potential for diversification.
Energy, agriculture, base metals and precious metals.
This specialized radar offers an analysis of the major commodity themes: energy, agricultural, base metals and [precious metals.  In addition to the detection of trends and bubbles, an additional indicator translating the fundamental demand/supply equilibrium in these markets is also provided.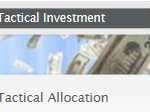 Diversified portfolios in EUR, in USD and a sectorial European portfolio.
This radar offers an answer to the following question:  "How to manage a portfolio capturing long-term trends and preserving capital?"  This detailed report provides an operational perspective and a range of tactical allocation portfolios, covering different universes, a diversified universe in Euro, a diversified universe in US Dollars, and a sectorial equity universe.  These long-only portfolios respect very simple constraints: no short selling and no leverage.   Customized on-demand analysis is also possible.